Looking for a fun craft or activity to add to your homeschool day? You're in luck with these 20 nature activities for kids to do outside.
---
With the weather finally starting to warm up again, I'm always looking for new ways to get my kids outside and exploring nature!
There are so many great nature activities for kids that will encourage them to play outside more and have fun learning about nature in the process! All of these activities work for kids of any age, so you can easily adapt them to whatever age your child is!
Whether you're looking for a fun craft or an educational activity to add to your homeschool lesson plan, you're bound to find the perfect fit here! Here are 20 fun and creative activities to get your kids outdoors.
This post may contain affiliate links, you can read my disclosure policy here.
Fun Nature Activities for Kids to Get Outdoors
As the days get a longer and a little bit warmer, it's the perfect time for some nature activities to get the kids out of the house and out into the sunshine.
So I've pulled together 20 activities to give you some outdoor fun ideas that don't require an exotic location or a mountain of expensive supplies. More than likely, you already have everything you need for an afternoon of crafting and enjoying nature.
It's best to make getting outside easy and fun, for everyone. That's why I made this Neighborhood Scavenger Hunt, so even if you in a city, you can get the kids outside and looking for nature all around them.
Take a walk and see what all you can find.
This wind catcher from Inspiration Laboratories is such a fun and easy activity. Just walk into your backyard or take a walk through the woods to find everything you need.
Here's a nature activity even my teenagers would enjoy! From Edventures With Kids, these zentangle rocks are a colorful idea. And if finding the right rocks isn't easy where you live, you can grab a bag from Amazon.
My little guy loves a memory game, and this creative option from Rhythms of Play would really make him happy. Plus, wouldn't every child love to find all the goodies and surprise mom and dad with what they found.
Once you have the boxes, you could use this for so many games. Add colors or letters to each box for a different memory game.
I love these nature collages from Hands On As We Grow because once your child finishes, they will be excited to display it in the window for everyone to see. It also uses simple items you may already have around the house.
What is it about little kids that makes them love to find a pattern? This idea from Coffee Cups and Crayons is great because it will also get them searching for the next item. You need a pinecone, then go find it. Hide and seek with math thrown in.
A fun idea that would be great for an outdoor party or homeschool park day, this super-sized memory game of rhyming words from Growing Book by Book will have the kids in the fresh air while working on their phonics skills.
From The Chaos and The Clutter, this nature weaving project is another one that requires little in the way of supplies other than what you find in the backyard. Perfect for when you need an idea quick and don't have time for a trip to the store.
As a child, it was always thrilling to throw a maple seed into the air and watch it spiral down. Actually, it still is. So how could I not love these adorable maple seed dragonflies from Buggy and Buddy?
To really get your children exploring in nature, create this sensory scavenger hunt from Rhythms of Play. They'll be searching and exploring to find matches to every item.
Roly-Polies are also so fun for a child. It's exciting to see them roll up and then patiently wait to see if they open up again. Fantastic Fun and Learning shows you how to make a roly-poly habitat so you can always have fun watching them roll into a ball.
Buggy and Buddy has a beautiful and artistic way to explore symmetry with solar paper.
The Educators' Spin On It has a fun idea for using sticks to teach the math concept of tally marks. Perfect for that day when everyone just needs to get outside.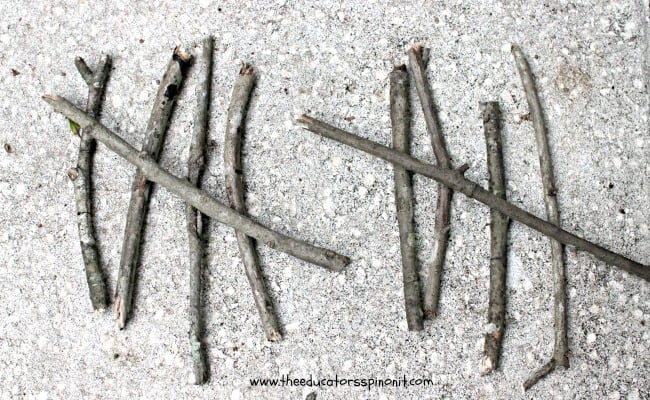 This cute number rocks idea is from Fun-A-Day, and can serve two purposes: an art project for your older kids and an learning activity for the younger ones.
When you at the home improvement store getting ready for spring, grab a few paint cards and have your kids see if they can find a match in nature. Thanks, Fantastic Fun and Learning.
We live where it's humid, so I'm always excited when after the rain we have mushrooms popping up. But don't try to eat those! Instead, watch some mushrooms grow inside with a mushroom growing kit. Teach Beside Me has everything you need to know about growing some mushrooms at home.
I know this one isn't for everyone, but if you can stand it, I'm sure the kids would have a blast making mud soup. No Time for Flashcards has this messy idea that only requires a few containers and some water for an afternoon of nature fun.
I knew I should have bought that case of mason jars at the thrift store the other day! My little guy would love creating these nature mason jars from No Time for Flashcards.
Fantastic Fun and Learning has a great idea her kids inspired by tying a string to different natural objects and seeing which would make the best kite.
Kids always love a good stick, much like they love a good rock! My youngest even loves to scrape all the bark off of his prized sticks, which would make them perfect for this project from Hands On As We Grow. Take those bare sticks and turn them into artistic creations for your next hike.
Fun Nature Activities for Kids
What I love about all these fun nature activities for kids is that they don't require exotic locations or expensive gear. Just rummage through your kitchen and head out to the backyard.
Homeschooling at its best!
More Ideas for to Get Kids Outside
How to Get Your Tween Outdoors and Off the Screen
6 Powerful Ways Nature Surpasses The Classroom
Nature Study Simplified: Identify, Observe, And Journal