100 of the Best Life Learning Tips That Will Inspire Your Homeschool
Are you in need of some homeschool inspiration? Here are 100 of the best life learning tips to rid yourself of the homeschool drudgery and embrace a life of learning.
I remember well what led to my beliefs about learning. My oldest three were barely considered "school age," and I was probably holding baby number five while finishing my morning cup of coffee.
French music floated through the air, and the "Jack-Rabbit Shop" was open for business. Every Melissa and Doug stamp we owned was placed on the 1980's wet-bar countertop, and the girls were hidden behind the swing style doors.
Orders were placed through the bar window, and customers came and went with their exclusive designs. The currency was hoarded candy wrappers, and they could play for hours.
How could I disturb this creative, cooperative play by requiring completion of a math worksheet? I couldn't.
This was the whole reason I choose homeschooling, freedom. The freedom for them to play "Jack-Rabbit Shop" rather than complete a spelling lesson.
Instead of having a set school-at-home schedule and mentality, I believe in creating a life of learning that does the educating for you.
This a varied list that I hope will inspire you to view learning as something that happens all the time. Enjoy!
This post contains affiliate links; you can find my disclosure policy here.
Life Learning Tips for Mom
1 | Ask your child about their interests – This seems so obvious, but how often to do we do this as homeschooling parents? Focus less on what they "should" learn and allow them the time to dive deep into a subject of their choosing.
2 | Observe your child – Another thing we probably don't do enough in our homeschools. What skills are they already proficient in and what needs more work? How can you use their natural inclinations to practice those skills?
3 | Work with personality – Work with their personality instead of against it. An introverted child may not appreciate an outside class full of group projects, just as an extroverted child won't love their desk in the corner of a quiet room. Find what works for them.
4 | Focus on their strengths – Have you ever noticed how a child's deficiencies are our primary focus? Wherever they are weak, we feel the need to push and push to get them "on track." Instead, let's allow them to shine without being overshadowed by a weakness.
5 | Value their opinion – Listen to what they have to say. Find out the reasons they feel the way they do. If they genuinely don't enjoy something, they don't have to continue just because everyone else does.
6 | Be open to different subjects – Homeschoolers are usually pretty good at this. From Minecraft to Manga, homeschoolers embrace unusual interests and unique hobbies. Learning can be found in everything
7 | Use strewing – Strewing can be invaluable to your homeschool. There are so many interests and questions inspired by the random invitations we can create in our home.
8 | Ask questions – It's not our job as homeschool parents to have all the answers, sometimes we need to ask the questions and model how to find the solution.
9 | Model life learning – As we model finding answers, we also need to model learning as a life-long endeavor. Learn a new skill or take a class and show your kids that we're always learning.
10 | Be interested – The world is fascinating, so show that to your children. Be interested and interesting yourself, and inspire curiosity in your children.
Practical Ideas
11 | Create a collection – Rocks, insects, and stamps are all great items to collect and display.
12 | Ignore the mess (sometimes) – Yes, we all want a clean house, but sometimes learning and creativity come with a mess. Don't squash the ideas for fear of the mess. I know that's hard, but we want to encourage curiosity, not kill it.
13 | Share (use Facebook and Pinterest for good)– Yes, social media can be at best a time waste and at worst an addiction. But, when used responsibly, it can be great for inspiration and sharing. My girls have Pinterest boards they collaborate on, and I often share interesting videos I find on Facebook.
14 | Research learning opportunities – This is another great benefit of social media! I follow my local museums, theaters, and parks department, so I stay updated on their opportunities and exhibits.
15 | Offer support – This is our number one job as homeschooling parents. We're not all-knowing sages who dispense our vast knowledge to pupils; we're parents who help our children find answers, pay for activities, drive them around, and inspire curiosity.
16 | Take off your "school-colored" glasses – Cultivating a homeschool mindset and deschooling are important steps we need to take to have a happy, enjoyable homeschool.
17 | Travel – It doesn't have to be expensive and far to be worthwhile. Here's are some tips to help you save money and your sanity while traveling with kids
18 | Watch a movie – From documentaries, to book adaptations, there is so much to learn from movies. Here are some lists to get you started: Homeschooling With Netflix: History Documentaries, 100 Classic Kids Books Made Into Movies, & 100 Educational Shows on Amazon Prime.
19 | Play music – Listening to music has been shown to produce many psychological benefits, and you can also expand on your learning opportunities by using SQUILT to dive deeper into composers and musical eras.

20 | Read Aloud – Reading aloud can be the centerpiece of your homeschool and can cover any topic imaginable. Here are some handy lists: 50 Must-Read Classics for Kids, 100 Picture Books Your Children (and You!) Will Love, and How to be Successful in a Literature-Based Homeschool.
21 | Use technology – We have so much available, why not use it? The Techie Homeschool Mom's Ultimate Guide to Online Homeschool Courses is a great place to get started with all those courses available online.
22 | Host a book club – Invite friends over and have fun with a book club. From simple to extravagant, a book club provides the opportunity to get together with friends and incorporate some learning. If you're not the craftiest, pull-together-a-party mom (like me), make your life easier with an online book club from Literary Adventures. The ideas and activities are all organized for you so that you can be the fun mom without all the work. Be sure to sign up for a free book club and give it a try.
23 | YouTube – I'm annoyed with YouTube at the moment, but I still think it can be a great learning tool. The tricky part is finding a way for your kids not to waste all their time on slime and squishy videos.
24 | Science Expeditions from Little Passports – I'm also not the best at whipping up science experiments at a moment's notice, but I love the Science Expeditions box from Little Passports for quick, easy science activities.
25 | Subscription boxes – We love subscription boxes, and they make a great gift from Grandparents. Our favorites are any Kiwi Crate box, Little Passports, and Science Expeditions from Little Passports. But our favorite is Universal Yums. It's a mini-party every month.
26 Field Trips – Who doesn't love a field trip? You get out of the house and explore the world. Whether it's a museum, zoo, or park, there is always something to learn.
27 | Cooking – Cooking is not only a necessary life skill but also a great way to learn. From dividing and multiplying fractions to weights and measurements, all can be gained by simply baking some cookies. You can also make food from around the world and discuss geography and cultures. For some fun recipes and cooking skills for your little ones, try. It's a great monthly subscription that includes child-friendly cooking utensils.
28 | Go shopping – Hand in hand with cooking is shopping. Making a list, calculating discounts and tax, determining which package has enough for your recipe, are all skills you use when shopping that build math proficiency.
29 | Have a pet – Pets can vary wildly from dogs and cats to horses and chickens, but they don't have to be so big to be a meaningful addition to your homeschool. One daughter has been desperately wanting a fish, so she asked for a gift card for her birthday to get a fish. So a birthday gift turned into budgeting (math), research skills, and following directions because you don't want to kill the fish!
30 | Unit Studies –  I'm not a planner, so I love anything that makes my homeschool mom life easier. Techie Homeschool Mom's online unit studies can get us learning on even the most chaotic day.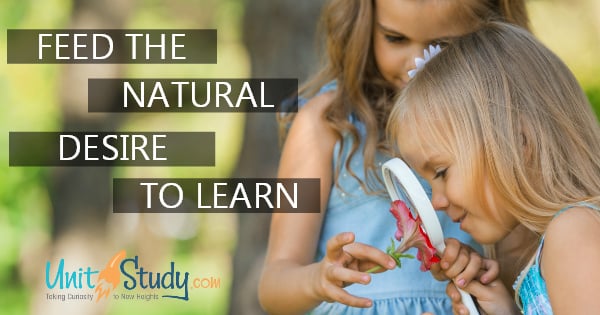 Create a Learning Environment
Just adding these simple items to your home and making them available to your children can create many learning opportunities.
31 | Clocks – Digital or analog, they all help children learn to tell time without the need for a worksheet.
32 | Maps/Atlas/Globe – My family has an innate affinity for maps. My brother would sit and study an atlas for hours as a child, and my parents highlight the roads they've driven in their US atlas. Kids are fascinated by maps and love to compare the distance between various places.
No products found.
33 | Art Prints – A simple way to expose your kids to great art is to keep art prints on hand. It can be as simple as hanging them on the refrigerator or having a designated display area where you rotate works. These Art Postcards are a simple, inexpensive option for adding art appreciation to your homeschool.
34 | Poetry – From Mother Goose to Shakespeare, poetry is all around us. Pick up some books are the library, have the kids write their own poems, or hang these poetry art printables around the house.
35 | Rock collections – Great for strewing to introduce the kids to geology and the types of rocks.
36 | Magazines – A great source of inspiration, you can find magazines on any topic to strew in your home.
37 | Scales – From kitchen to bathroom scales, all can be used for learning. Want to know how much the dog weighs? Do the math. Have your child weigh themselves holding the dog and empty-handed, then find the difference. A hanging scale could be a lot of fun.
38 | Microscope – So much fun can be had with a microscope!
39 | Thermometer/Weather station 
40 | Typewriter – Best found at the thrift store, but be sure you can get the ribbons. When we first brought one home, the girls spent days playing and making newspapers.
Get Out and Do Things
41 | Go to the Gym – This is something we have recently made a part of our routine, and if nothing else, it helps me to be a happier mom. It's beneficial for the whole family. If you don't have a gym available, take a walk with a purpose and get that heart rate up.
42 | Visit the Library – Need I say more?
43 | Play games – Games are a great way to have the kids learn both hard and soft skills. Not only are they learning math, reading, and strategy, they learn to be a good winner and loser. All essential skills to have in life.
44 | Puzzles – No matter your age, puzzles can help with fine motor skills, logic, and reasoning.
45 | Visit craft stores – Even if you don't buy, visiting a craft store can be the source of endless ideas for projects.
46 | Listen to Audiobooks – A simple way to entertain a captive audience in the car.
47 | Grocery Shopping – Every time we shop, I'm amazed at the everyday math we use. Just yesterday, we were buying juice, and my daughter picked up the largest bottle, but I saw smaller bottles on sale. So I explained that we needed to compare the amounts and the price. It was much cheaper to buy the two smaller bottles on sale than the larger bottle.
48 | Make Lists – Having a child write a list for you gives them the opportunity to practice spelling and handwriting. You could even have them sort the items into categories for even more stealth learning.
49 | Keep a Calendar – We love our large calendar that hangs in our kitchen. It keeps us on top of our appointments and events, as well as gives the kids that visual they need to order the days and months in their minds.
Large Dry Erase Wall Calendar - 38" x 68" - Undated Blank 2023 Reusable Yearly Calendar - Giant Whiteboard Year Poster - Jumbo...
Helps track goals, appointments, schedules, travel, holidays, projects, the only calendar for your company to build team coordination, management, and event planning.
Made of grade poster lamination coat finish, reusable for every year, easily erases with a touch of water without ghosting or staining. The calendar planners work with dry erase or wet erase markers.
50 | Make a Family Tree – Just as a calendar makes time visual for a child, a family tree helps to understand all those connections that can be hard for a child to remember.
Simple Things for Young Children
51 | Make Vegetable Prints (colors/color mixing) – A fun way for kids to learn about color and what happens when you mix too many.
52 | Create Holiday Art (Art and Social Studies) – For quick and simple art creations, we love Chalk Pastel's lessons. They require minimal setup and supplies and make creating easy.

53 | Paper and Pencil (this is pre-writing) – I'm sure many people would cringe at how freely my little ones can plow through paper, but I see it as more than a 4-year-old wasting paper. He's learning to hold a pencil, figuring out the correct amount of pressure, and working on his fine motor skills. If you can't stand the waste, cut them down to smaller sizes.
54 | Read a Pictureless book (Art and Language) – You "read" the book and then have them read it to you. Our favorite is Tomie DePaola's Pancakes for Breakfast.
55 | Sort socks (matching, colors, and patterns) – A simple matching game that can be done anytime and is useful.
56 | Sort Lego's (colors/size) – Another easy sorting activity.
57 | Play Store, Restaurant, or Library (math) – This is even more fun with a play cash register.
58 | Build a Fort (engineering, problem-solving, and communication) – We can have some pretty heated discussions about the best way to build and secure a fort.
59 | Play at the Sink (volume) – Sensory play that could end in some clean dishes.
60 | Dot-to-Dot puzzles (numbers, sequencing, and handwriting) – Connect the dot puzzles have always been a big hit with my little ones. My favorite are the Kumon books, but you can also find them at the dollar store or print some for free online.
61| Play Recorder or Harmonica – Easy and inexpensive instruments to inspire some musical aspirations.
62 | Learn to Skip and walk on a balance beam and play catch (Gross Motor Skills)
63 | Plant a garden/houseplants – There is so much to learn from tending to plants, even for mom! If you don't have outdoor space, you can try sprouting, mushrooms, or micro-greens indoors.
64 | Identify neighborhood trees and make leaf rubbings – Call me crazy, but I think everyone should know the difference between a maple and an oak leaf. Use those leaves to create beautiful art.
65 | Create a Nature Journal – Nothing fancy is required, just observe and record what you see. Our Journey Westward has some excellent nature study guides to get you inspired.

Ideas for Older Children
66 | Watch Documentaries – My 16-year-old and I just watched Poverty, Inc. You can gain an immense understanding of economics from this 1 1/2 hour movie.
67 | Make Purchases – Kids love to spend their own money. Even a trip to the dollar store will have them doing math and making decisions about the best use of their money.
68 | Start a Business – My girls have had a few business ideas over the years. One daughter has walked dogs and pet sit, and another has made jewelry and bath products. There's a lot to learn about time, money, and production costs.
69 | Join a Club (or start your own) – Organization and leadership skills are necessary when participating in a club, and even more needed if you start your own. From 4H to small book clubs, kids love to get together with friends.
70 | Keep a Journal – What child doesn't love a blank book to fill?
71 | Create a Timeline – You're not limited to a Book of Centuries or a wall timeline to record historical events. Try a notebook, index cards, or even online.
72 | Learn Household Tasks – We all realize our children need to learn to cook and do laundry for themselves, but some bigger tasks are beneficial as well. Actually, I have a drain that is running slow; we may take care of that today.
73 | Play with Younger Kids – When older siblings play with the younger ones they have the opportunity to teach the little ones and work on their patience.
74 | Build Something – Whether a birdhouse or a Lego set, building something has them reading and following instructions, as well as troubleshooting when something doesn't go right.
75 | Keep a Reading Log – A great way to record all that you have read as a way of reminding yourself of what you have done and pulling out when you can't remember the title of that one book everyone loved.
76 | Take a Class (Online or In Person) – Does your child have an interest in a topic or skill you know nothing about? Find a class either in person or online.
77 | Comparison Shop – A valuable skill that has kids reading reviews and calculating cost differences. One child needed a heater for her fish tank, which included determining how many watts her tank needed and comparing different models for price and quality.
78 | Host a Party – I'm not a natural party thrower, so my kids do most of their party planning. Choosing a date, making invitations, and purchasing all the favors are things they happily spend time doing.
79 | Experiments – Simple science experiments are easy to find and fun to complete. This is another area when I just let the kids go and try to keep my interference to a minimum.
80 | Sewing – From the utilitarian chore of sewing on a button to the most artistic skill of quilting, sewing is not only a necessary skill but a creative outlet.
Books to Inspire the Homeschool Mom
81 | Free Range Learning: How Homeschooling Changes Everything by Laura Grace Weldon
82 | Dumbing Us Down by John Taylor Gatto
83 | Free to Learn: Why Unleashing the Instinct to Play Will Make Our Children Happier, More Self-Reliant, and Better Students for Life by Peter Gray
84 | Teach Your Own: The John Holt Book of Homeschooling by John Holt and Pat Farenga
85 | A Gracious Space: Fall: Daily Reflections to Sustain Your Homeschooling Commitment by Julie Bogart
86 | A Gracious Space: Winter: Daily Reflections to Sustain Your Homeschooling Commitment by Julie Bogart
87 | A Gracious Space: Spring: Daily Reflections to Sustain your Homeschooling Commitment by Julie Bogart
88 | And the Skylark Sings with Me – Adventures in Homeschooling and Community-Based Education by David Albert
89 | The Brave Learner: Finding Everyday Magic in Homeschool, Learning, and Life by Julie Bogart
90 | The Unschooling Handbook: How to Use the Whole World As Your Child's Classroom by Mary Griffith
Quotes to Guide Your Homeschool Atmosphere
91 | There is no school equal to a decent home and no teacher equal to a virtuous parent. ~Gandhi
92 | Children learn from anything and everything they see. They learn wherever they are, not just in special learning places. ~John Holt
93 | When the atmosphere encourages learning, the learning is inevitable ~Elizabeth Foss
94 | Knowledge, which is acquired under compulsion, has no hold on the mind. Therefore do not use compulsion, but let early education be a sort of amusement; you will then be better able to discover the child's natural bent ~Plato
95 | Recipe for genius: More of family and less of school, more of parents and less of peers, more creative freedom and less formal lessons. ~Raymond Moore
96 | Thank goodness I was never sent to school: it would have rubbed off some of the originality. ~ Beatrix Potter
97 | Play is often talked about as if it were a relief from serious learning. But for children, play is serious learning. Play is really the work of childhood ~ Fred Rogers
98 | Schools teach exactly what they are intended to teach and they do it well: how to be a good Egyptian and remain in your place in the pyramid. ~ John Taylor Gatto
99 | Children are born persons. ~ Charlotte Mason
100 | What is most important and valuable about the home as a base for children's growth into the world is not that it is a better school than the schools, but that it isn't a school at all. ~ John Holt
Inspire Life Learning
Learning and homeschooling are so much more than workbooks and curriculum.
Rather than checking another box on the homeschool to do list, let's create an atmosphere that supports curiosity and learning.
I still say the only education worth anything is self-education. ~ Robert Frost